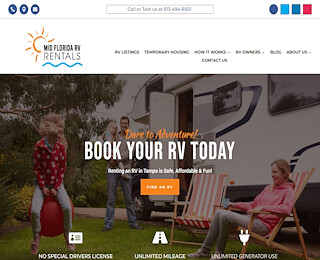 It can be very practical to rent an RV on your next family vacation. Having your own vehicle where you can sleep and prepare your own meals allows you to hit the open road without stress, so you can enjoy every moment of your adventure. You'll find the right RV at the right prices at the Mid Florida RV Rentals website. Call 813-494-8501 for more information.
Florida RV rentals give you all the freedom you need to enjoy a remarkable weekend or extended vacation with friends and family. When cooking up a laidback getaway, consider driving around in a motor home and taking control of your destination over an expensive tour, which limits you to X number of attractions in a day. RVs also take away the hassle of constantly having to pack and unpack your belongings as you travel from one place to the next. A complete motor home also gives you control over what and where to eat, saving you a great deal of time and money from deciding which restaurant or eating joint to hit. With an RV, you are also free to visit anyplace you want, when you want to, and for as long as you need. 
Renting an RV is a great way to get family and friends together for a joint experience, whether you want to explore a new city or go into the wilderness and spend a night or two camping. This is the kind of freedom you want when you want to enjoy nature and all its intimate beauty. Florida RV rentals are available from local providers, like Mid Florida RV Rental, a trusted name in the motor home rental business. Mid Florida RV Rental has been serving families, celebrities, professional race teams, production companies, etc. for many years, offering the highest quality vehicles and services in the area.
Florida Rv Rentals
Mid Florida RV Rental
813-494-8501
6128 Lewis Avenue, Gibsonton, FL 33534
View Larger Map
We welcome your comments!