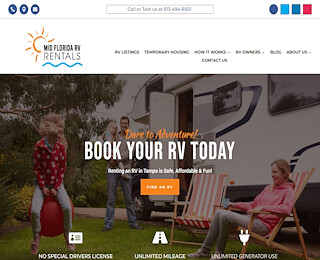 If you live in Tampa and are looking for motor home rentals that you can use for your next road trip, visit the Mid Florida RV Rentals website. You can check out available motorhomes based on your budget and requirements. We will help you select the most appropriate motorhome and pricing package for your individual needs. You can also call us at 813-494-8501.
Explore roads less travelled with Tampa motor home rentals. If you want to get away from the hustle and bustle of the city life and take your family to an unforgettable trip, renting a motor home is a great way to escape the daily grind for a few days and reclaim rest. RV rental also gives you the unique opportunity to experience RV living without committing to motor home ownership. Recreational vehicles are serious investments and they may not be practical if you will only leave your unit sitting out and gathering rust in a garage some place. 
Purchase, storage, and maintenance of an RV can be a lot to take. Fortunately, Tampa motor home rentals are widely available from trusted companies like Mid Florida RV Rental, which also happens to offer RV rent-out for motor home owners who want to profit from their own investment. If you don't have much time to take your motor home out for a spin, consider renting it out and making profit with Mid Florida RV Rental. 
The motor home lifestyle is like no other and experiencing it with your family can lead to unforgettable stories to tell for generations. If you have an outdoor location to explore with the entire family, renting a motor home is a great way to save budget and take control of your vacation. 
Tampa Motor Home Rentals
Mid Florida RV Rental
813-494-8501
6128 Lewis Avenue, Gibsonton, FL 33534
View Larger Map
We welcome your comments!