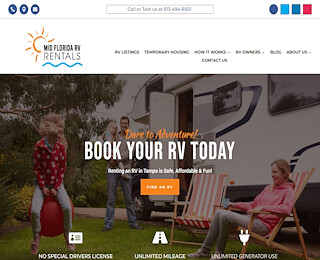 To truly save on your Tampa RV rental be sure that the rental company's pricing package declares all costs upfront, so you never have to stress out about surprise charges at checkout. Mid Florida RV Rentals offers an honest and transparent pricing policy. Check out our website to see our RV rental offerings or call 813-494-8501.
There are many different types and classes of RVs that you can choose from, depending on your travel needs. An A-class Tampa RV rental is a bus-type motor home that is designed for longer distance and longer term use. These are the types of RVs touring bands and artists commonly use as they are more suitable for substantial travel. They have large fuel, water, and holding tanks, and their sizes range from 32 to 40 feet. A-class RV rentals are also available in gas and diesel configurations and they sleep as many as 4 to 6 people or more, depending on the RV's layout. 
A B-class Tama RV rental on the other hand, is basically a campervan. They are less common and more costly to rent than C-class motor homes, but they are great for use when camping out with a family of 2 to 4. While limited in space, B-units are appealing because they are easier to drive and have better gas mileage. C-class motor homes, on the other hand are the most common today, featuring a van style cab and a cabover bed. They vary in size, but are generally smaller than A-class RVs, and can sleep up to 10 people.
Whatever your RV rental needs may be, Mid Florida RV Rental has the perfect vehicle for you. Mid Florida RV offers well-maintained and high-quality RVs in the latest models to make sure you will have a smooth trip with your group. 
Tampa Rv Rental
Mid Florida RV Rental
813-494-8501
6128 Lewis Avenue, Gibsonton, FL 33534
View Larger Map
We welcome your comments!