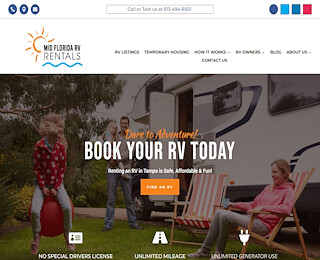 Before you leave Tampa, the RV rentals company should give you a complete walk-though of the vehicle. Their staff should show you all the features so you can enjoy maximum comfort in your motorhome throughout your trip. You can expect this and more from Mid Florida RV Rentals. Check out our website to see our vehicles, or call 813-494-8501 for more information.
If you are thinking to rent an RV for your next family trip but are not sure where to start, it is best to educate yourself about the basics of Tampa RV rentals. One of the first things you should know about renting a motor home is that there are several different types of RVs that you would come across every rental place. A-Class RVs are suitable for large groups and long-distance travel, while C-Class RVs are better recommended for shorter-distances. Depending on your vacation needs, ask your rental provider which type of RV they recommend for your trip. Some C-Class RVs, for instance, may just be as robust as A-Class vehicles. 
When seeking out Tampa RV rentals, make sure that you have your vacation plan laid out. While RVs are generally built for rough roads, they too, have their own limitations. Ask your provider whether or not their vehicles can take on the different terrains you will have to take to get to your destination. It is also important to consider your sleeping configurations, storage spaces, and similar types of arrangements to ensure an enjoyable trip with your group.
Mid Florida RV Rental is a great place to begin your RV-vacation planning. The company offers a large fleet of RVs , campers, and trailers for rent, all of which follow strict standards of cleanliness and quality. Mid Florida RV Rental is the first place to turn to for all your RV rental and motor home needs.
Tampa Rv Rentals
Mid Florida RV Rental
813-494-8501
6128 Lewis Avenue, Gibsonton, FL 33534
View Larger Map
We welcome your comments!